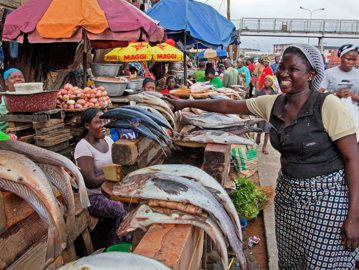 Healthy food for everyone
Our fishing activities all focus on fishing for human consumption. After all, everyone deserves healthy food.
Our focus on healthy food
With our sustainability strategy, we concentrate on six focus area's. One of those focus areas is healthy food.
Contributing to people's health by making fish available is our raison d'être. It is our everyday pride and joy. The world population is growing, and so is the need for affordable, protein-rich food. Cornelis Vrolijk contributes by supplying millions of fish meals around the world every day. A large part of our pelagic fish is sold to West African countries, where mostly less affluent consumers are provided with affordable and nutritious fish.
In western countries, healthy food is an important theme as well. Fish, and especially oily fish, contributes to a healthy lifestyle. Within this theme, we also work on avoidance of food waste.
Other focus areas
Within our sustainability strategy, we have six focus areas. In addition to healthy food, we also concentrate on biodiversity and ecosystems, emissions, care for people, circularity and supply chain responsibility.