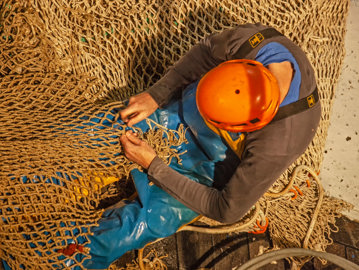 Sustainable use of raw materials
Reduction, re-use and recycling of raw materials is an essential part of our organisation's sustainability policy.
Our focus on circularity
With our sustainability strategy, we concentrate on six focus area's. One of those focus areas is circularity: sustainable use of raw materials.
The use of raw materials can lead to scarcity and emissions, and it impacts biodiversity and ecosystems.
Indirectly, this impact on biodiversity and ecosystems also affects the health of people and economic results. In concrete terms, we look at packing materials for our fish, like cardboard and plastic. But we don't lose sight of our waste on land and on our vessels, or of our fishing nets, our pallets, or our water consumption. We feel it is our responsibility to be economic in our use of raw and other materials, and we are committed, wherever we can, to reduce, re-use or recycle our raw materials.
Other focus areas
Within our sustainability strategy, we have six focus areas. In addition to circularity, we concentrate on biodiversity and ecosystems, healthy food, emissions, care for people, and supply chain responsibility.