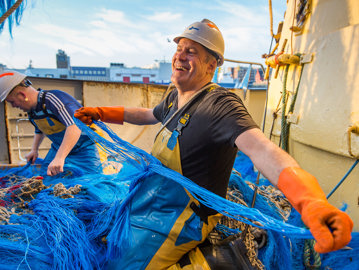 Care for people
Our people are the most important assets of our organisation. Safety, diversity, inclusiveness and equal rights for everyone. 
Our care for people
With our sustainability strategy, we concentrate on six focus area's. One of those focus areas is care for people.
With our internationally integrated value chain and committed staff, we can make a difference in the lives of many people who are directly or indirectly involved in our business. 
Safety on board our vessels is crucial to us. Our colleagues work every day on the high seas, sometimes under severe weather conditions. We feel responsible for doing everything in our power to make sure they can work and return home safely. Fishing is also physically demanding. That's why we feel it's important that everyone can enjoy their pensions later in good health and why we work preventively on a healthy lifestyle for our employees.
We want to offer a pleasant working environment with lifelong development opportunities, where diversity and inclusiveness are embraced.  Within the chain, embedding principles of human rights and labour rights has our constant attention. This includes issues like working conditions, fair pay and eliminating child and forced labour . In the local communities where we are active, we want to make a positive contribution, among other things by providing employment and sharing knowledge.
Other focus areas
Within our sustainability strategy, we have six focus areas. In addition to care for people, we concentrate on biodiversity and ecosystems, healthy food, emissions, circularity, and supply chain responsibility.