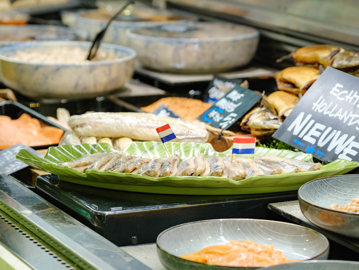 Our fish and shrimp
With our years of professional experience in the fishing industry, we can offer a wide variety of fish species. Find out everything about our fish products.
Our range of fish and shrimp
We sell herring for more than 140 years. In recent years, our product range has increased tremendously. Always with the best quality.
Originally, we mainly focused on herring. Over the past few decades, we have caught and farmed a wider range of fish and shrimp within our family of businesses. Both our clientèle and product range are wide: from sea-frozen herring to smoked mackerel fillets, and from wild caught tropical shrimp to Dutch shrimp peeled in the Netherlands.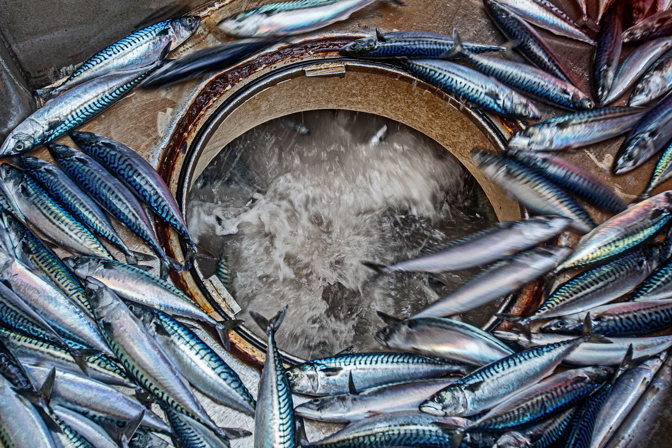 Pelagic fish species
Herring, mackerel, horse mackerel, blue whiting, and sardines are pelagic fish species. Pelagic comes from the Greek word for sea: pelagos. These fish species travel in schools, over the entire water column from just above the seabed up to the sea surface. Pelagic species often travel across great distances and migrate in various seasons from North to South, around Ireland, England, Scotland, and in the Bay of Biscay. We catch our pelagic fish species with our freezer trawlers. We then process the fish on board according to strict quality protocols (such as HACCP). With minimal quality loss, the fish is stored in refrigerated sea water tanks, frozen, and packaged on board within 6 to 12 hours of being caught. That guarantees the super freshness of our fish.
Our fishing methods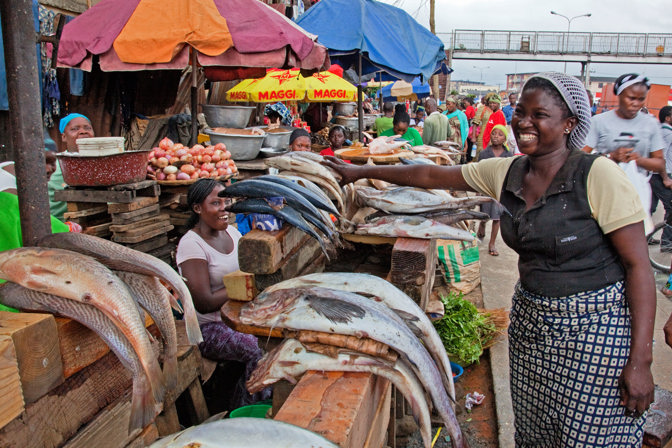 Sale of pelagic fish
A large part of the pelagic fish that we catch is exported. Our major markets include West and North Afrika, Eastern Europe and Asia. In addition to export, we also supply fish to our home market in the Netherlands and to European retail businesses, wholesale traders and fish retailers through our own processing and trading companies. We supply this fish from ship to shelf, in a closed fish supply chain. Within our family of businesses, we work closely together in order to respond to the consumer's expectations: a high quality product, sustainably caught, and from a known origin.
Our family of businesses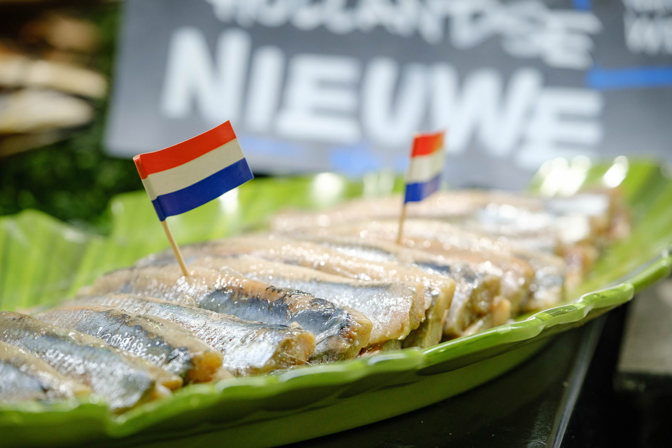 Matjes herring
Herring lovers look forward to the first matjes herring every year. The young herring is called 'matjes herring', which is a corruption of the Dutch word 'maagdelijk' (virgin). The fish has not yet developed any soft or hard roe. Matjes herring contains at least 16% fat and has a mild taste. Top specimens even have a fat content of 21-22%. At the beginning of June, the season traditionally opens with the auction of the first barrel. Our matjes herring is sold through our subsidiaries Dulk Haasnoot Seafood in Scheveningen and Cornelis Vrolijk Seafood in IJmuiden.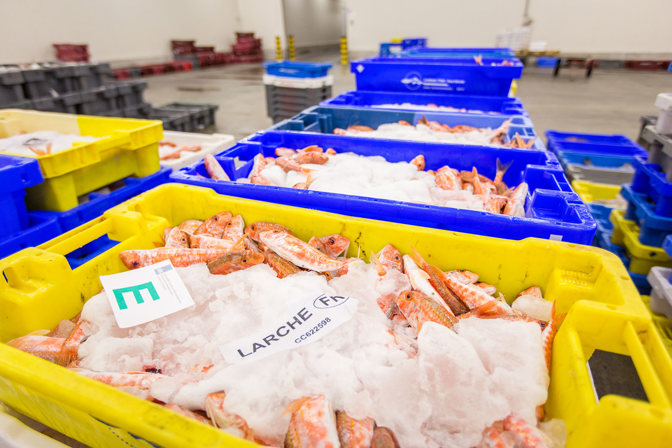 Demersal fish species
Sole, plaice, dab, tub gurnard, mullet, and squid are demersal fish species. Demersal comes from the Latin word demergere (sink). These species live near the seabed. Our vessels are active from various ports, depending on the season. We fish in the North Sea and the Channel. The North Sea is one of the most productive and one of the cleanest seas in the world.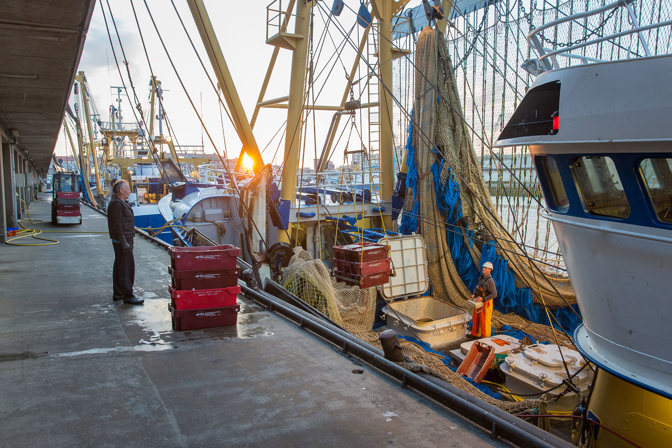 Sale through the fish auction
With our demersal trawlers, we supply fresh fish to consumers all over Europe. The fish is stored on ice on board and delivered and sold through the Scheveningen auction. The fish then finds its way to restaurants and fishmongers in The Netherlands, but also through traders, including our subsidiary Bertus-Dekker Seafood, to southern Europe. Overall, we unload between 600 and 700 shipments a year. This means that our fish can be bought fresh in Scheveningen nearly every workday.
Tropical and Dutch shrimp
Within our family of businesses, we catch, farm, process and sell different species of shrimp as well. Through our subsidiary Primstar, with a fleet of shrimpers in Nigeria and farms in Nigeria and Ecuador, we focus on tropical shrimp. Closer to home, the Dutch shrimp is caught in the shrimping season with our own demersal trawlers. We cook them on board, after which the larger part is machine-peeled at Garnalenpelcentrum Kant shrimp peeling centre in Lauwersoog.