Aug 22, 2023
Fewer and fewer fish have MSC blue label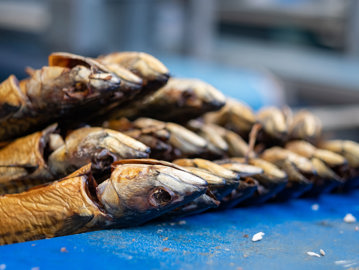 Fewer and fewer pelagic fish caught by Dutch fishermen have the MSC blue label. Thie reason for this is the 'fish war' between coastal states. On 17 August, newspaper Trouw reported on this in an paid extensive article.
Only 53 per cent of fish is MSC-certified, compared to 80 per cent four years ago. As Cornelis Vrolijk, we are aware of this: only North Sea herring, about 35 per cent of our catch, still carries the label. Since 2021, MSC has withdrawn certification of mackerel, blue whiting and Atlantic-Scandic herring. We regret this, especially as we have little influence on it.
This is due to disputes between coastal states. As fish populations move northwards, presumably as a result of climate change, some coastal states are claiming a greater share because more fish would be in their waters. However, there is a lack of good scientific support for these claims. Disagreements over the allocation of fish quotas have led to concerns about overfishing and the withdrawal of MSC certification for mackerel, blue whiting and Atlanto-Scandic herring. Daily newspaper Trouw confirms that there is little we can do about it.
Without any scruples, Norway and the Faroe Islands have unilaterally increased their own mackerel quotas since 2021, each exceeding their historical quota share by 55%. Meanwhile, the European Union has stayed the same (set at its historical share of the 'quota pie', which includes the Brexit rebate). Read the PFA's press release here.
The impact of the loss of the MSC label on consumer behaviour is not visible in supermarkets in north-west Europe. We also sell a lot of mackerel to other European and African countries for human consumption. These consumers are largely unaware of the MSC and are mainly looking for a healthy and affordable source of good quality protein.
Unfortunately, what the MSC and NGOs fail to take into account is that Norway and the Faroe Islands have caught a large proportion of their unilaterally increased mackerel quota for the fishmeal industry. Because pelagic fish stocks such as mackerel are so large, we are talking about hundreds of millions of mackerel that cannot be eaten by humans.