Aug 31, 2021
Cornelis Vrolijk says goodbye to trawler L-1455 Cornelis Vrolijk Fzn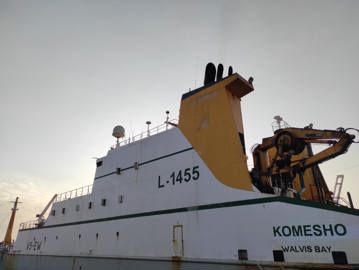 In August 2021, Cornelis Vrolijk said goodbye to trawler L-1455 Cornelis Vrolijk Fzn. The ship was sold to a Namibian partner with whom Cornelis Vrolijk has co-operated for two years. The ship remains in Namibian waters and now carries the name "Komesho" which means "forward".
The Cornelis Vrolijk Fzn began its operations in 1988 as the SCH-171 and was the fourth generation vessel to carry this name. The first Cornelis Vrolijk Fzn, named after the founder of the company, began its operations in 1955.
Over the past two years, the skippers and crew of the Cornelis Vrolijk Fzn worked hand-in-hand with 35 Namibian crew members. Together, they made an important contribution to the sustainable horse mackerel fishery and helped feed millions of people in Namibia and its neighbouring countries. The Dutch and English crewmembers have all been relocated to our other Dutch and English trawlers.