Dec 07, 2022
Cornelis Vrolijk now officially strategic partner of Krijn Verwijs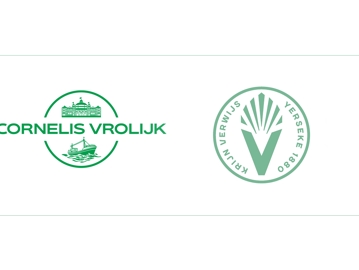 Joint venture strengthens strategy for both family businesses
IJmuiden - 7 December 2022 - The declaration of intent signed in June this year between Cornelis Vrolijk and Krijn Verwijs was ratified last week. Both companies are joining forces to deliver healthy, reliable and responsible products from the sea 'from ship to shelf' to European consumers. This move is in line with the ambition to produce a high-quality, healthy and sustainable product for human consumption.
This cooperation will realise economies of scale and allow the companies to further shape their further growth in the seafood business. Both companies enjoy a rich network in which the demand for sustainable and healthy products is increasing.
About Krijn Verwijs Yerseke
In the Verwijs family, everything revolves around the sea. After all, this is the source. This is where delicious and nutritious shellfish are grown and harvested. "Our great-grandfather Pieter Verwijs started farming oysters in 1880. So since we can remember, we have been living with and from the sea. We are proud to continue his legacy with Premier and make sure every day that our customers around the world can enjoy a full range of seafood and sea vegetables," says Caroline Verwijs, managing director of Krijn Verwijs Yerseke. Krijn Verwijs plays an active role in the entire production chain from source to plate, they are able to maintain excellent quality and supply the freshest products. Krijn Verwijs's innovation team continuously provides the market with new and inspiring opportunities. They do not compromise at the expense of the environment. The company's mission is to leave the sea better and healthier for future generations. (www.krijnverwijs.com)
About Cornelis Vrolijk
The foundation for Cornelis Vrolijk was laid in 1880 by Frank Vrolijk in Scheveningen. In recent years, the family business has grown into a family of companies active in the farming, catching and processing of fish and shrimps. For more than 100 years, our professionals have been extracting the best products from the sea. Cornelis Vrolijk is active throughout the chain, from ship to shelf, where quality, reliability and sustainability are important values.
For more information visit www.cornelisvrolijk.eu