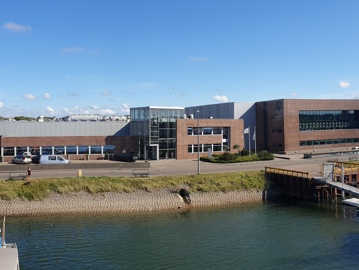 A family of businesses
We work within our family of businesses to supply nutritious, healthy and affordable fish products. Thanks to our years of experience in every phase of the production chain, we can supply the best quality.
Strong together
Our fishermen have supplied first-class quality beautiful fish products since 1880. In recent years we have also ensured further processing of these products within our group.
By working closely together within our family of businesses, we know what happens in every phase of the production chain: from ship to shelf. That allows us to be flexible and adjust where necessary. It's because of this flexibility that we are close to the consumer's wishes. That way we supply quality products: sustainably caught and with a traceable origin.
Our family
To supply first-class quality, we work closely together with the specialised companies within our family. That way, we guarantee the reliability, continuity and quality of our fish products from ship to shelf. 
Pelagic, demersal and other fish species are caught and sold with our fleet of modern freezer trawlers and an innovative demersal trawler fleet through Cornelis Vrolijk BV and its subsidiaries Jaczon BV, France Pélagique SAS, and North Atlantic Fishing Company Ltd.

 

For the catching, farming, sale and processing of (tropical) shrimp, we work with a fleet of shrimpers through our subsidiary Primstar BV.
For the processing and sale of fish, we work with our subsidiaries Cornelis Vrolijk Seafood, Dulk Haasnoot Seafood, Bertus-Dekker Seafood, Welmar Seafood, and Kegge Garnalenhandel.

 
For several products, like our mackerel, we even manage the entire chain from ship to shelf. After being caught in the North-East Atlantic by our own trawlers, the mackerel goes to the smokery at our processing companies, and then on to the supermarket shelf. This control of the entire production process makes us flexible and allows us to adjust where necessary. In addition to mackerel, we also have a full supply chain for several shrimping and demersal fishing products.